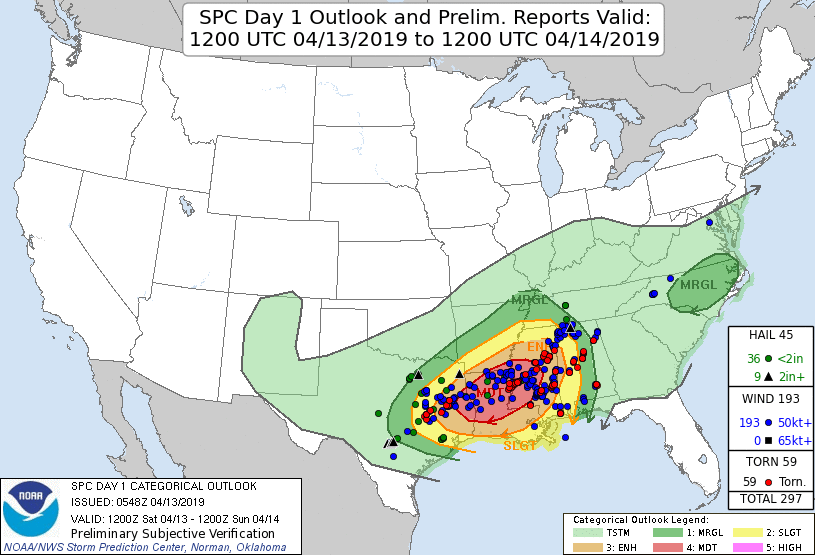 Severe weather over the weekend
This past weekend had the largest severe weather outbreak so far this year. Unfortunately, there were a few fatalities.
The severe weather outbreak started on Saturday. The Storm Prediction Center gave the day a Moderate Risk of severe weather; the second highest rating. Overall, it was kind of a messy day. A couple different lines of storms developed, with scattered showers and storms mixed in all around. One supercell in particular produce at least a couple different tornadoes. Franklin and Alto in Texas were hit hard by these storms.
The storms continued on through the day, and through the overnight hours; continuing to sporadically produce tornadoes. Hamilton, Mississippi was hit hard by one such tornado; happening late in the day or during the overnight period. At the time of this post, the highest tornado rating that I've seen has been EF-3.
Sunday was more of a wind damage day, but there certainly were tornadoes as well. There were a few tornadoes in the south, as Saturday's storms continues across the area. Meanwhile, a few different squall lines moved across the eastern U.S. The squall line that moved through Sunday night in particular produced quite a bit of damage. My office produces forecasts for several east coast airports. Our forecast for the event seem to verify very well.