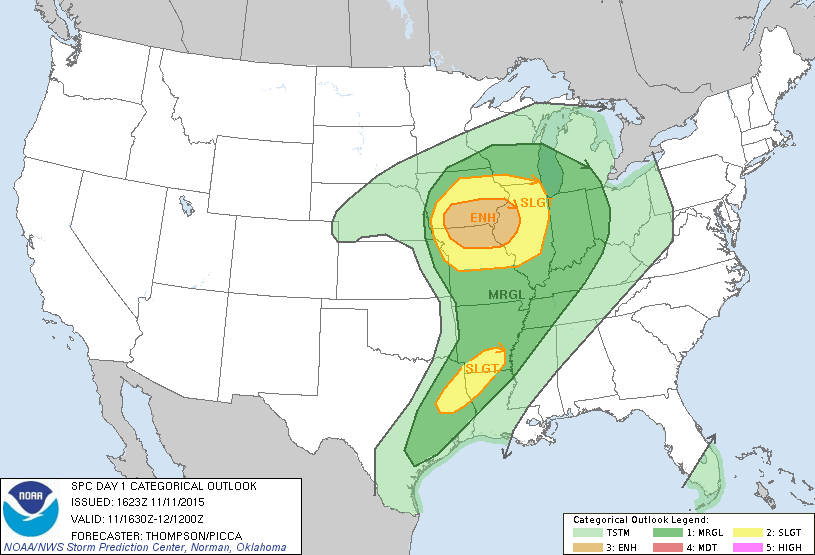 Storm Chase of 11 November, 2015
November storm chases are always interesting. This was the third time that I've gone chasing in November, last time being the day of the Washington, IL tornado. Of course, that day was on my mind as I forecasted this event, though it didn't look like it would be anywhere near as bad as the Washington day.
The set up itself was interesting this day. Instability was pretty low (less that 1,000 j/kg for the most part,) due to crappy lapse rates. However, the equilirium layer was also fairly low, which acted to compress the CAPE into a smaller area. This, combined with some pretty decent wind shear lead to the severe weather that occurred.
It was a Wednesday, so I had to secure permission from my boss to leave work early to go storm chasing. I wasn't 100% sure if I even wanted to chase this event. I was relatively sure there would be at least one tornado. But a couple problems with this set up were storm motion and storm mode.
The storms were moving very fast, meaning I would really only have one shot at seeing a tornado on any given storm. Furthermore, the forecast models depicted the storms forming a long line, which is less than ideal for viewing tornadoes. So I have to weigh the risks vs rewards. Was it worth the four hour drive to gamble that I picked the right storm at the right time? In the end, I decided it was.
I left relatively late; I think I hit the road at like 10:30. Storms were already ongoing by the time I got to Iowa, and I think there were already tornadoes reported closer to Nebraska. I got to my intial target area of Ottumwa, Iowa, and then stopped to grab a bite to eat and fill up on gas.
At this point, I was basically trying to position myself in the path of a storm moving up from Missouri. I drove further west a ways, eventually stopped near the town of Albia, Iowa. Unfortunately, I had no cell phone signal in this area. I found a decent spot to watch the storm approach. After a little bit, I got antsy and decided to drive a bit further west to get closer to the storm. As I was doing that, it started to rain, and I could see much heavier rain was just to my west.
So I decided to bail back to the east. I had seen a lowering or two, but could not really make out any features. As I got back into Ottumwa, I got a cell phone signal again. My radar updated, and I saw that I was pretty much underneath a tornado warned storm. As I drove east, I saw several police cars and several other cars stopped and watching the storm to the west. So I pulled over to take a look at what they were looking at.
I didn't see very much, just heavy rain. Once it started to rain again, and the wind begin to really pick up, I jumped back on the road and headed east again. The storm caught me, and I was battered by heavy rain, hail, and possibly the strongest winds I've ever seen. Visibility dropped to about zero at times.
I spent the rest of the afternoon driving east back to Peoria, trying to stay ahead of the storms. I did end up getting to Peoria before the line of storms did. It was dark at this point, and I hurried inside with my stuff. I was concerned about the wind tipping my BBQ grill over into my glass patio door, so I repositioned it.
The line of storms hit with very strong winds. A 71 MPH wind gust was reported at Peoria International Airport, which is a ways south of me. The wind was strong enough to blow my BBQ grill to the other side of my patio. During the wind gusts, I could actually see the glass of my patio door bowing inward. Interestingly, there was no lightning when the storms hit Peoria.