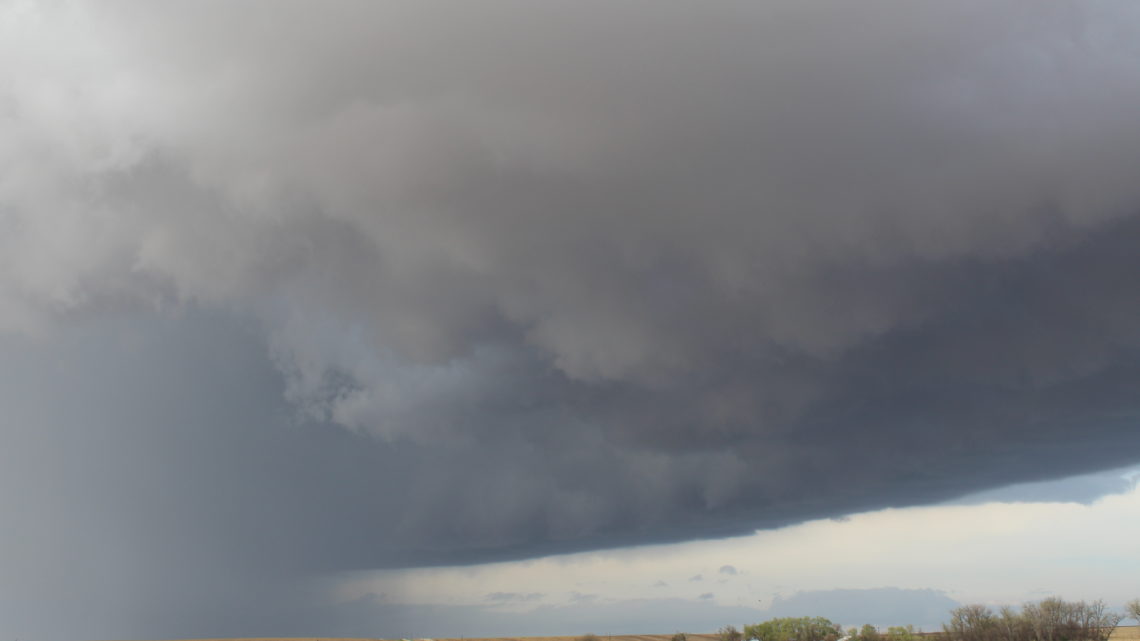 Storm Chase of April 27th, 2014.
Day two of my storm chase mini-vacation to eastern Nebraska. Also, it was the first High Risk day of 2014, although I did not chase anywhere near the High Risk (or Moderate Risk, for the matter,) location.
I woke up that morning to thunder from a slow moving Mesoscale Convective System that seemed to sit overhead for a good six hours. The MCS made the forecast that day a bit difficult. I debated either following the MCS to the east into Iowa, or staying in Nebraska. After heading east a little ways, I decided to head back towards south central Nebraska. Some storms had already started firing just south of the Nebraska-Kansas border, heading about due north.
As I closed on the most favorable looking storm, it began to rotate. When I was only minutes away, it became tornado warned, and a brief tornado was reported. I had missed the tornado, but stopped to observe the storm for a few minutes anyway. Eventually, that storm began to become more linear and less supercellular, so I abandoned it for another favorable looking storm further east.
As I drove towards that eastern storm, two more storms fired between it and myself. One in particular became very intense. I stopped and observed the storms, letting them roll over me. I was pelted by some pea, dime and then penny sized hail. As the hail came to a stop, one single quarter-sized hail stone fell from the sky; making it a severe thunderstorm. I took a few pictures, reported the hail to Spotter Network, and then followed after the storm.
Soon, that storm became more linear and less supercellular as well, so I abandoned it and went for that easternmost storm, which still looked favorable. Again, as I was a couple minutes away from it a tornado was reported. I followed after the storm, going over some very lousy road conditions (and I learned to avoid from now on roads with a "Minimum Maintenance Road" sigh ahead of them.)
As I was driving north after the storm, I saw something in the distance. It was shrouded in rain and very faint, but looked like a little finger coming from the sky. "Is that a…Nah…Couldn't be." I said out load, and then forgot all about it. A few minutes later, a couple tornado reports came in, very near to where I was. I still didn't put two and two together. Later on, another storm chaser posted on Facebook a picture of what I had seen, only from much closer. It was in fact a tornado.
Eventually, the storm weakened. As it was the last decent looking storm in the entire state of Nebraska, I decided to call it a night and head back to Illinois. Once I got east of Des Moines, Iowa, I ran into a very intense non-severe thunderstorm. It had some of the craziest lightning I have ever seen, with cloud-to-ground bolts striking seemingly all around my car. The lightning I saw with that storm was much more impressive than the brief, distant tornado I saw.
But at the end of the day, I am officially on the board in 2014 with one tornado sighting. Also, since I technically saw a tornado on a High Risk day, I think that means my High Risk curse is finally over.