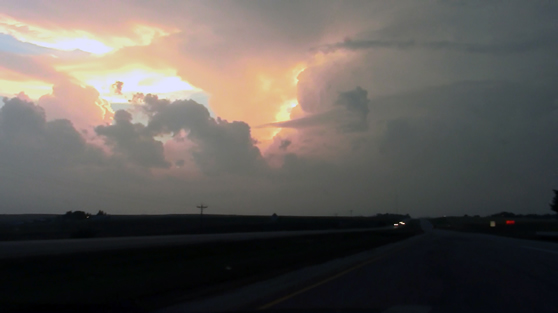 Storm Chase of 04 October, 2013
This was a late year Moderate Risk day that I, in retrospect, did not bring my A-game to. My initial target area was central Iowa. I got on the road a little too late in the morning. Then, lots of road construction west of Elgin slowed me down even more.
After I got into Iowa, and got close to Des Moines, a small cluster of thunderstorms was near by. One of them looked like it was starting to develop a hook, so I decided to veer away from my target area and check out the storm. But as soon as I got a little closer to the storm, it fell apart. So I resumed my course.
Storms began firing in Nebraska, which was still quite aways away from me. A head of those storms, another line of storms fired up. I paused for a while to watch those storms. But it soon became apparent that these were not going to produce anything. So I began rushing towards the Iowa-Nebraska border.

It was getting late in the day at this point, and the sun was starting to set. I was seeing reports on my computer of very large tornadoes on the ground near the border. I hauled ass towards the nearest tornado warned storm. The sun was just about down as I caught up to it.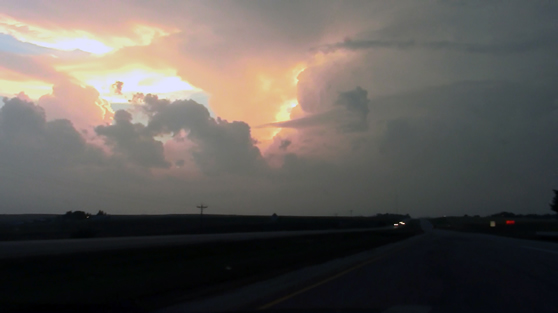 I could tell it was intense storm by the striations along the side of the storm, as well as the constant lightning. It was reported that the storm I was on had a mile wide tornado on the ground at about the time I caught it. However, by the time I got close enough to where I could see it, it was pretty much completely dark out.
I decided to take a chance and chase for a while at night; which is very dangerous. A couple times I had to take long exposure pictures with my Canon Rebel just to see if there were any tornadoes on the ground. After chasing for a while, I ended up giving up and heading for home.
As I stopped at a gas station, I talked to a gentleman also filling up on gas. He mentioned that the storm had dropped another damaging tornado after I had already given up on it. Discouraged, I headed for home.