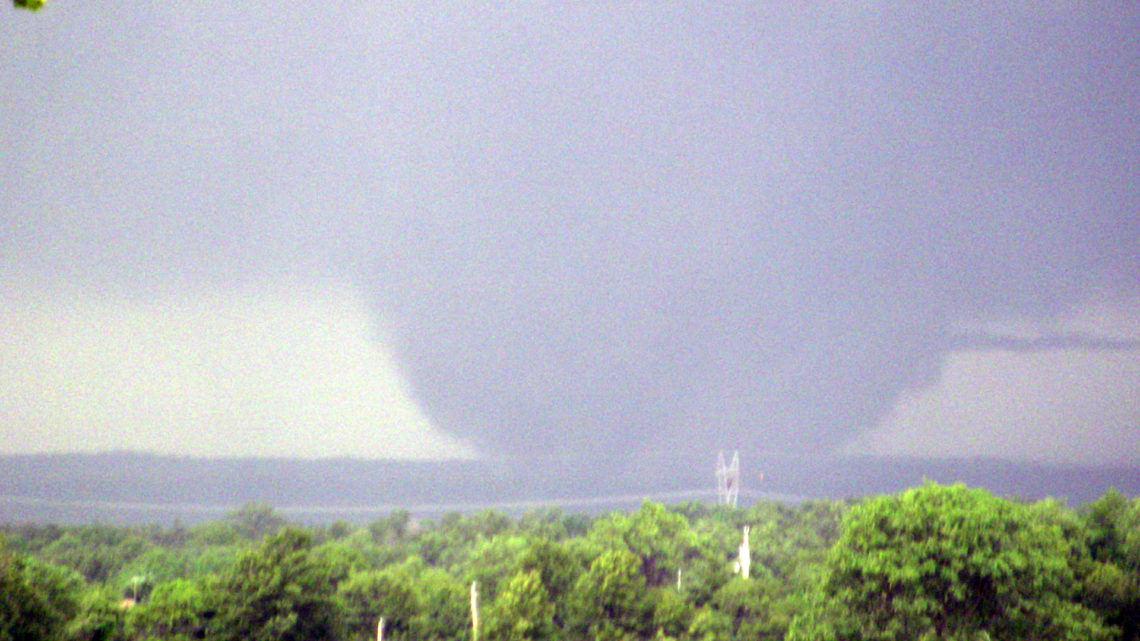 Storm Chase of May 19, 2013
Day two started out in Wichita, KS. I was a little unsure of where exactly I wanted to target. Originally I was thinking Tulsa, or slightly west of there. Eventually I decided on either Perry or Guthrie, Oklahoma. So I headed south, and stopped for lunch in Perry. As I waited in Perry, storms began firing up north in Kansas. One would eventually drop a tornado in or near Wichita; where I had spent the night.
Storms did fire in Oklahoma, and one became supercellular very quickly. I drove south from Perry to Guthrie, deciding at first to let it develop a bit more. I wasn't there for very long when the storm became tornado warned. I jumped on the road, heading west and then south into Edmond. As I drove, I saw some intense lightning. I entered the town of Edmond, and tried to find a good vantage point where I could actually see the storm (there are lots of trees in Edmond.) The tornado sirens were sounding at that point. I pulled into Edmond North Highschool's parking lot, and watched the storm.
Not long after I did see the tornado on the ground, and I jumped back on the road to chase it. I was just north of it, tracking a lot side of it. Once I got a little ahead of it, I took a right and moved a little closer. Then I stopped and watched it cross the road ahead of me.
After the tornado cross I-35, it look liked it dissipated or lifted. I chased after the storm, along with many other storm chasers. Sometime during that, the storm dropped a massive wedge tornado. After I got ahead of the storm, I stopped on top of a hill and briefly photographed and videoed the tornado. 
It quickly lost contrast and became hard to see, so I jumped back on the road. I chased the storm for probably another hour or more, but never got close enough to see anything. At the same time, a tornado dropped east of Norman. The tornado became another massive wedge, and struck the town of Shawnee. I decided to abandon the first storm and head south towards the new wedge.
Along the way, another, smaller storm became tornado warned. I stopped and watched the storm for a while, but it never dropped a tornado. I gave up on that up on that storm and continued after the Shawnee tornado. I headed south towards Prague. Along the way, some debris from the wedge tornado actually dropped out of the sky around me; even though I was still quite far away from it. Soon after, the wedge had lifted and another tornado had dropped. By the time I got to Prague Middle School, the second tornado had lifted, and a third one touched down and lifted a couple times. I chased after the storm, and got very close to its circulation.
I continued after the storm, but eventually my path become blocked by a downed tree. At that point, I decided to call it a day. I headed to Norman for the night.