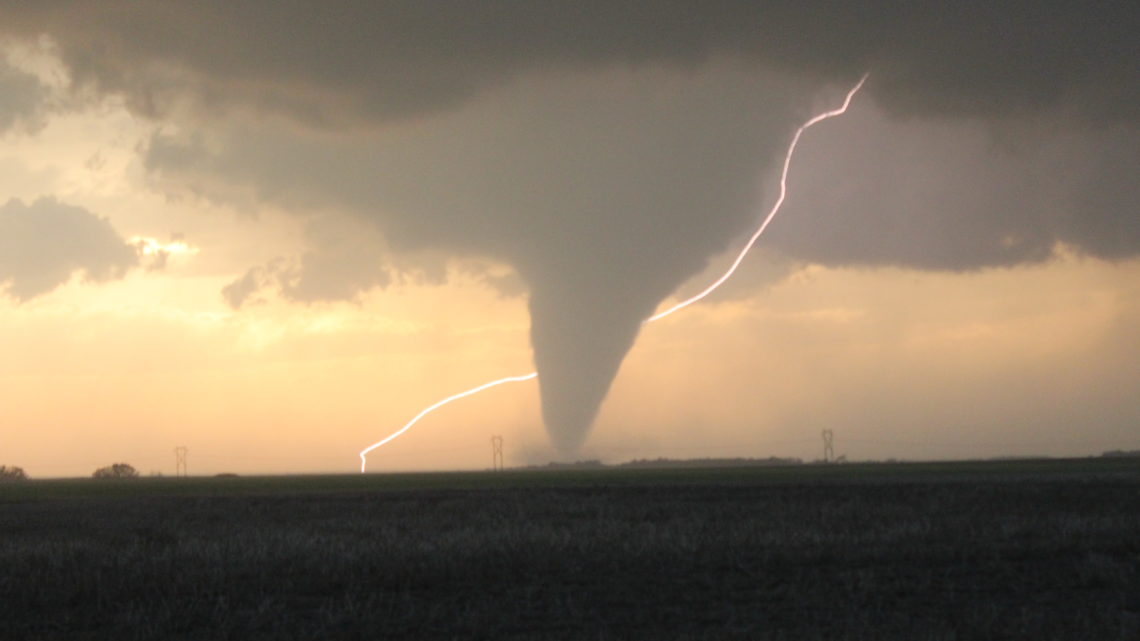 Storm Chase of May 18, 2013
Saturday was probably my favorite storm chase ever, and probably my most successful. As you can see in the pictures below, I saw four tornadoes from a good distance and got some great pictures and video. Furthermore, the tornadoes were, for the most part, in the middle of open fields. The first one was the only one that actually damaged anything I believe.
My journey started on Friday. Originally, I had been planning on chasing in either South Dakota or northern Nebraska. By the time I was ready to leave at around noon on Friday, southern Nebraska and northern Kansas started looking better. So when I hit the road, I decided to go to Kearney, Nebraska instead of Winner, South Dakota. The drive to Kearney was pretty uneventful, except for a couple of storms near the Minnisota-Iowa border; one of which dropped a tornado. If I had gone to South Dakota as planned, I may have been able to intercept it.
By the time I got to Kearney, my target area again shifted further south. Northern Oklahoma and southwestern Kansas looked like the best area. When I got up in the morning, I decided to head south to Greensburg, Kansas and wait for the storms. I got to Greensburg at around 12:30, and parked at a gas station. That gas station would become a huge storm chaser convention, with a surprising number of storm chasers from Illinois there.
So I hung out in Greensburg, talked to other storm chasers, got sunburned, and waited for the storms. Eventually towers became visible to the west. They grew larger and closer as they tracked to the northeast. Slowly but surely, storm chasers left the gas station to go chasing. Most of them went after a supercell that had developed and was moving towards Hayes, Kansas. The storm did drop at least one tornado. I elected to wait at the gas station in Greensburg, deciding that if I storm moved into the better air east of Greensburg, it would go nuts.
Finally, at around 5 PM, a storm got going and I hit the road chasing it. The storm started out small and unorganized at first. But it grew, matured, and got organized before my eyes. I stopped at several locations to watch the storm. I saw the mesocyclone form, wall clouds drop and lift, and even saw a couple of small funnel clouds. But the storm was not ready yet. I could see the storm rapidly gaining strength. Lightning flickered all around the mesocyclone; like it was charging up strength.

Then, when the conditions were right and the storm was ready, it dropped a large funnel cloud that eventually stretched all the way to the ground.
The tornado started out as a cone, but grew into a large stove pipe tornado. It was very slow moving; on the ground for approximately 20 minutes and not moving very far. I was able to watch its entire life from one stationary spot. The tornado grew larger and stronger, and I thought for a while it may grow into a wedge. Eventually the circulation weakened and lifted.
I jumped back into my car and raced north after the circulation. A funnel cloud formed and hung there for a while before it touched down. When I got pretty close and it looked like the funnel was going to reach the ground, I pulled over and began to film and photograph again. The second tornado was not as large and did not last as long.
After tornado #2 roped out, I hit the road again; following the storm further north. It was starting to get dark out, and visibility was dropping. Not long after I hit the road, I saw a bunch of storm chasers on the side of the road, pointing at something. I pulled over, and that's when I saw tornado #3. This would be the more photogenic tornado. This tornado was on the ground for maybe 10-15 minutes. It looked like it was pretty strong, but not quite as strong as tornado #1.
Eventually, tornado #3 weakened and lifted. As I sat in my car looking at my computer, I heard people outside start shouting and more cars pulling over. I looked out my window and saw tornado #4. This tornado was a brief rope tornado That was only on the ground for a minute or two. It was very interesting looking though, very skinny and curvy. After it lifted, I snapped a few pictures of some mammatus clouds with the setting sun as a back drop. Feeling very pleased, I decided to call it a day and head to Wichita for the night.