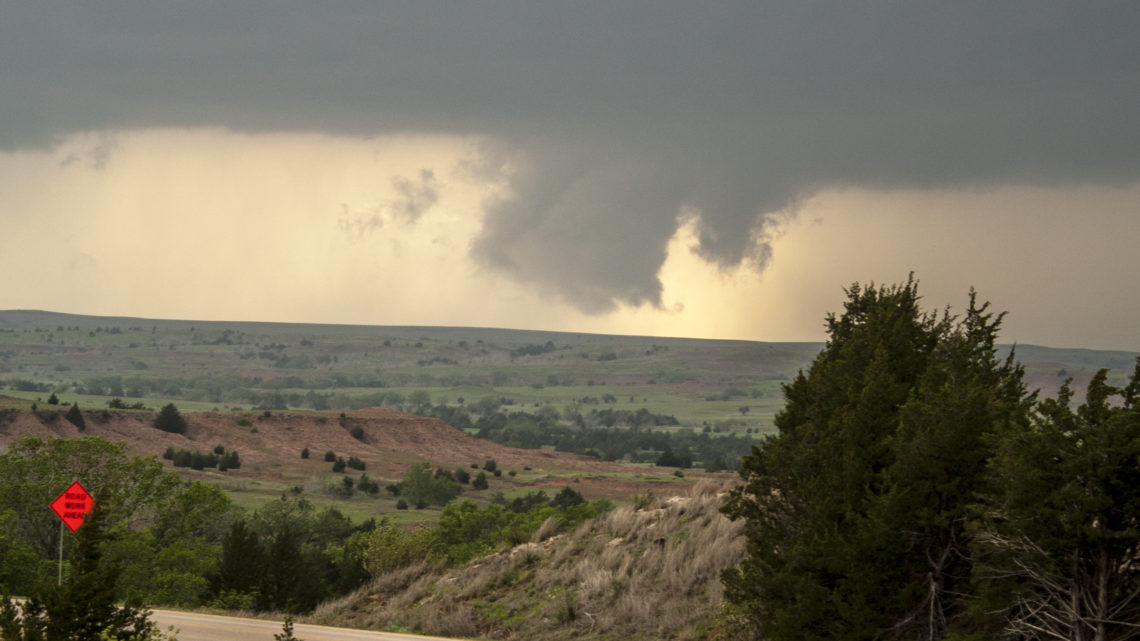 Storm Chase of April 14th, 2012
April 14th was the second and final High Risk day issued by the Storm Prediction Center in 2012. It was the peak of a three day severe weather outbreak, and six people lost their lives.
I had originally targeted north-central Oklahoma, in the southern portion of the High Risk area. By the morning of the 14th, it no longer looked like my target area would have any convective development until after dark. So I decided to aim for further north, in Kansas. This particular chase, I had a full crew with me; Alyson, our friend Scott, and our dog Bodhi.
So we hit the road sometime in the morning, heading towards Wichita. Storms had already begun to fire in western Kansas, and tornado warnings started pretty early. By the time we cross the Oklahoma-Kansas border, there were already several supercells with well defined hook echos. We decided to head west and get into position for the nearest storm. After driving west for a while in some very windy conditions, we found a nice spot in the path of the storm on top of a hill. Here we observed a large wall cloud. We followed the storm for a while, and observed another wall cloud or two.
After a while of chasing this storm and it producing nothing, we lost confidence in it and decided to chase after another storm. Unfortunately, sometime during the chase I got a speeding ticket, which delayed us. Eventually we gave up on the second storm, and went for a third storm further south. This third storm produced several wall clouds, but nothing ever touched down. As it started getting late in the day, and we were pretty discouraged, we began heading south towards Oklahoma.
Along the way home, we passed near Woodward, OK. I have always lost cell phone signal in northwest Oklahoma. The last radar scan we got before we lost the signal showed us in the path of a tornado warned storm. Since we couldn't tell where we were in relation to the storm, as well as being discouraged from not seeing tornadoes and the speeding ticket, we decided to keep driving towards home. Of course, my luck withstanding, the storm did produce a tornado.
April 14 was another High Risk fail on my part.
My "High Risk No-Tornado" trend continues…