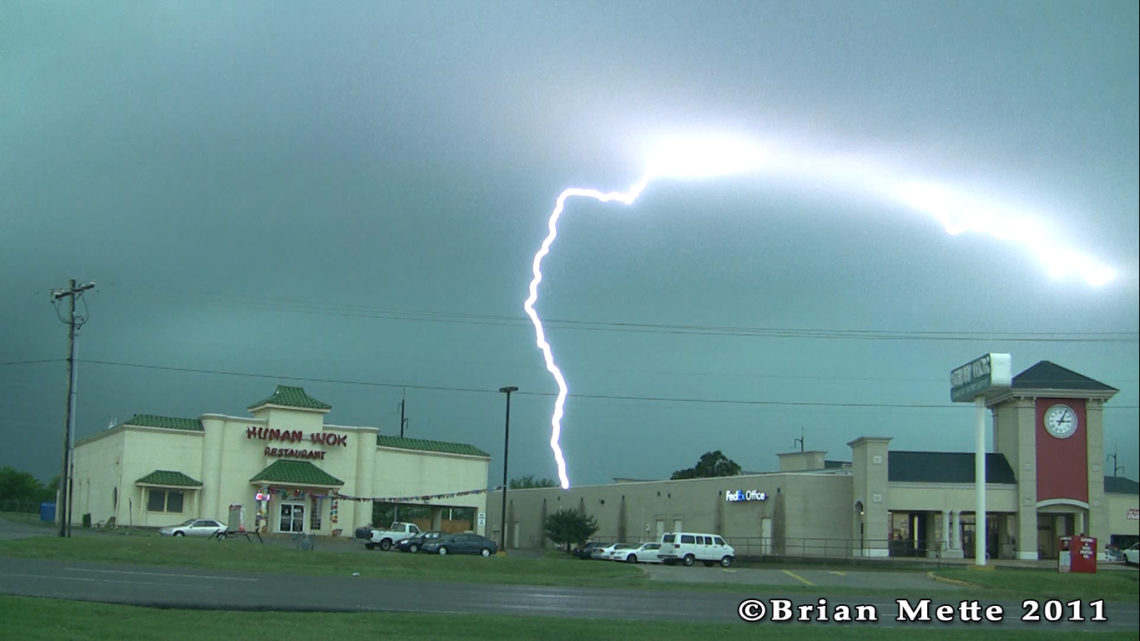 Storm Chase of 11 May, 2011
I'll start by saying that I didn't necessarily have the highest confidence in going into Wednesday. The forecast models just had not been doing a good job of predicting what might happen that day. Indeed, the forecast models had been having trouble that whole week it had seemed like. They had been initializing wrong, and completely misforecasting precipitation.
I'll admit that I am still pretty new to severe weather forecasting. But generally, I can do a pretty good job of forecasting a severe weather outbreak. But for Wednesday, I was confused as hell. The parameters looked decent; there was ample moisture, the dry line would be the lifting mechanism, there was some CAPE, but not tons, and there was some wind shear. However, precipitation models just did not show anything.
Wednesday morning threw another monkey wrench into the equation. Showers and thunderstorms had developed in the Texas panhandle overnight; something the forecast models had completely missed. As these storms moved east, they would definitely have an effect on the potential for severe weather. But what would that effect be?
On Monday, the Storm Prediction Center had upgraded the risk for Wendesday to moderate risk. But by Wednesday morning, the SPC had downgraded the risk to only slight risk. The main area of risk for that day was in Kansas and Colorado. But as I had calculus final the next day, I decided that I could not go that far. I was hoping that as the morning convection moved off, the chance for storms to develop again in western Oklahoma would go back up.
That day, I was joined by a friend mine and Alyson's named Anika. She had wanted to go storm chasing ever since she had learned that I was a storm chaser. We had planned for Alyson to go with us, but because she worked until 3:30, it was not possible. As it turns out, she didn't miss anything.
As Anika and I set out heading towards the southwest, the Mesoscale Convective System moving through central Oklahoma continued to grow and grow. It soon became apparent that these storms were diminishing any chance for discreet supercells to develop in southwestern or even western Oklahoma. We decided to turn around, and head north towards Kansas.
After driving for while, we noticed that the storms were pretty much developing right above us, not matter how far north we got. We then reached the conclussion that these storms were sucking up all the moisture, and that there was little to no chance of more storms developing in the west. At that point, Anika and I decided to call the chase and head home.
Along the way home was when we saw some interesting weather. We were just east of a pretty strong squall line for a while. We could see heavy rain and some crazy lightning just to our west. We stopped in Oklahoma City for a bathroom break. As we did, the squall line caught up to us. That crazy lightning grew even crazier, and pretty soon, it began to pour rain. We even saw some small hail.
After being slowed down by heavy rain, flooded roads, and heavy traffic, we finally made it back home by around 4 PM. Wednesday was definitely my shortest storm chase of this year. But, it's better to decide early that the day is a bust, than to drive crazy distances only to see nothing.
So good did come of that storm chase, however. After the interior of my car flooded for the second time within a few weeks, I finally decided to google the problem. Luckily, I found that other people had had the same problem, and I found a solution. After removing a little rubber liner thing from underneath the hood, water was then allowed to drain the way it was supposed to. So the problem should be fixed for good.