Weather Blog Archive
2016
Ads
Posted: Monday, February 8, 2016 10:04 AM
I added some ads to the website. Sorry. But hopefully this will help pay for the site.
First storm chase of the year?
Posted: Monday, March 14, 2016 5:57 PM
Tomorrow looks to be a pretty exciting setup. Since it's right in my backyard, I'll just head out as soon as I get off of work. I'll try to live stream, if I can.
What's new
Posted: Wednesday, April 6, 2016 4:06 PM
Not a damn thing, really. I would like to start forecasting for Peoria on a daily basis. I have been working on a page for that, but it is a work in progress. 

I did go on my first storm chase of the year back on March 15th. I saw a few wall clouds, and possible a distant tornado. 

Now that we're in April, I'm hoping for a lot more chase opportunities. With the declining El Nino, I think this spring will be pretty active.
2015
Jan
March
April
May
July
Aug
Nov
Dec
School, New Laptop, and Warmer Temperatures

Posted: Tuesday, January 13, 2015 8:10 PM

I have officially started the final semester of my undergraduate career. In four months time I will graduate, and officially become a meteorologist.

Also, I bought myself a new laptop; one of those 2-in-1 laptops that can be used as a tablet as well. It has a touch screen, which I think will make my life a lot easier when I'm storm chasing. I'm excited to give it a try this spring!

In weather news, it's looking like we're going to see some above average temperatures this weekend, with highs on Saturday reaching the upper 30s. It's looking like we won't be seeing the 40s as believed earlier in the week.



Plains Elevated Convection At Night
Monday, March 30, 2015 0:25 AM
It has been a while since my last update. Back in November, I volunteered for the PECAN (or, Plains Elevated Convection At Night,) project that will take place this summer. Last week, I found out that not only have I officially been selected for the project, but they have asked me to be a team leader. The project begins at the end of May, and lasts until mid-July. I plan on making a daily journal of the goings on during the project.
First Storm Chase, and First Tornado of the Year.
Posted: Friday, April 10, 2015 12:21 AM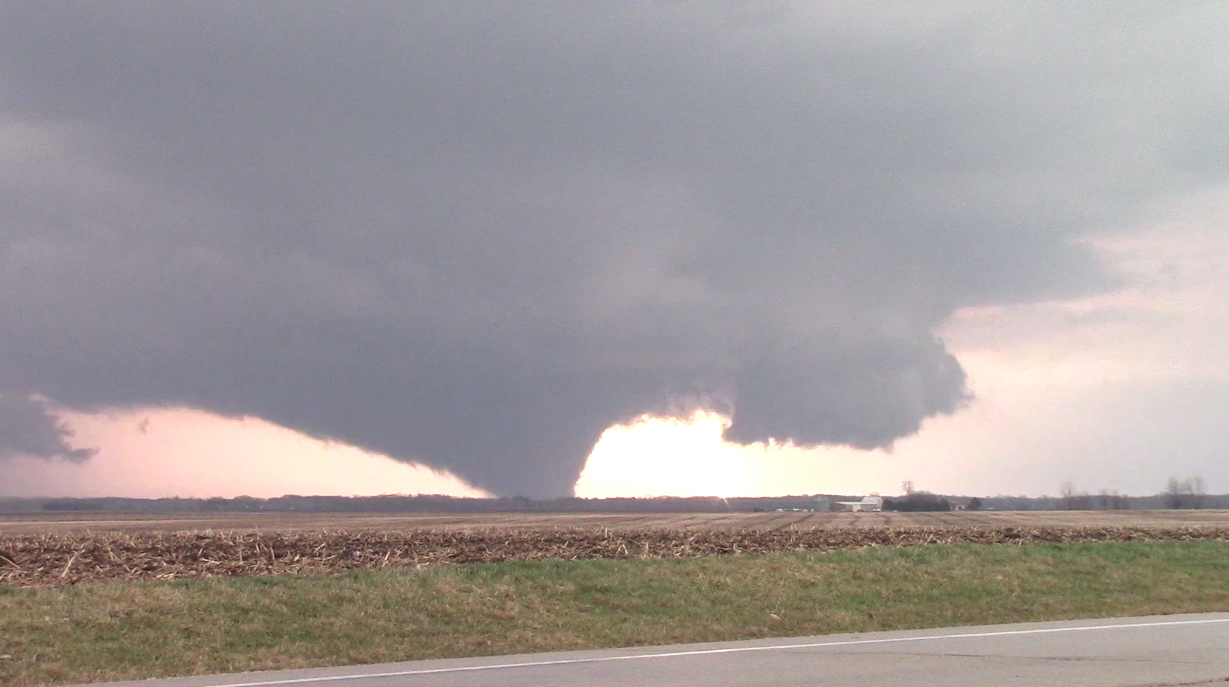 Well, my first storm chase of the year was a success. Although if feels good to be batting 1.000 so far this year, it's important to remember this tornado not only destroyed homes and injured people, but also cost one person their life. This is the first tornado I've seen that has killed anyone. Very sad.
First Storm Chase of the Year?
Posted: Monday, April 6, 2015 3:18 PM
I've been watching the severe weather potential for Thursday, and it looks like it could be my first storm chase of the year. There is still plenty of disagreement in the forecast models, but it looks like a midlatitude cyclone may set up in southeastern Iowa, with a warm front stretching across the Illinois-Wisconsin border. Instability looks to be abundant, so if a storm can fire up along the warm front, it will be possible to see a tornado or two.
Of course, this all is still a couple of days out. The forecasts will change, and what ultimately happens will likely be pretty different from what the forecast models show anyways. Some concerns of mine over this set up are 1.) the overnight convection. If it, or any cloud cover associated with it linger longer than expected, that will greatly reduce the instability. 2.) The position of the warm front. If it ends up moving slower than expected, or stalling out somewhere south, than northern Illinois will not see very much. Of course, storm mode is always a concern.
Unfortunately, I have class on Thursday until about 3 PM. So right now, the plan is to see how things look after I get out of class, and decide if I want to chase after that.
First PECAN Blog Posted
Posted: Sunday, May 31, 2015 6:40 PM
Like the title says, I have posted my first blog about PECAN, as well as some pictures. The blog can be found by clicking on the 'Storm Chase' button to the upper left, and then clicking on the PECAN entry. Or, you can just click here.
Officially Ending Daily Forecasts
Posted: Sunday, May 24, 2015 10:17 AM
When I first started this website in Fall of 2010, it was meant to be a way to combine my love of weather and of graphic design. It started out as just a place where I could post daily weather forecasts for Norman, Oklahoma; and then shortly afterwards I included Elgin, Illinois as well.

It used to be that I would wake up and hour early each day to get a forecast done before I went to school. But as school became increasingly more challenging, and my free time became more and more scarce, the daily forecasts became "once every few months" forecasts.

Since I well be leaving for PECAN at the end of this week, and then starting my new career in mid/late July when I get back, I have deciced to officially cease posting any sort of daily forecasts on here.

I still plan to post all my storm chase logs (including PECAN,) on here. And, if there is a particularly interesting weather event, I may blog about it on here. I might also try to reinvent the 'Elgin Forecast' page into a regional weather page at some point. But as of right now, the purpose of this website will be to serve as my blog and my chase log/portfolio.
Finally
Posted: Saturday, May 9, 2015 2:43 PM
After a long, long five years, I have finally graduated. I am now officially a meteorologist. Moving forward, I leave for PECAN at the end of this month, where I will serve as a team leader. After that, I start my job as an agricultural meteorologist in Washington, Illinois. It's been a long road, but my journey through college is finally over.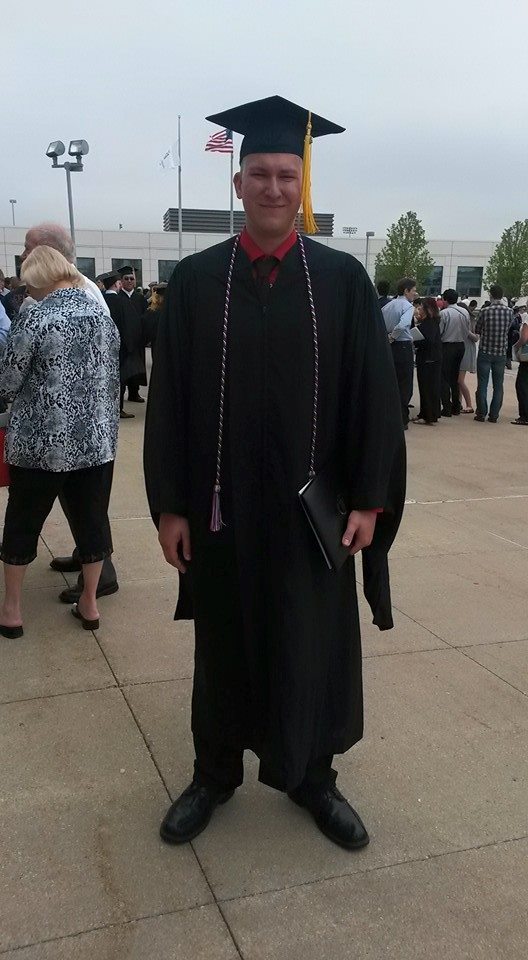 Time Lapses and the Last Week of PECAN
Posted: Tuesday, July 7, 2015 11:51 PM
The Plains Elevated Convection At Night field project is quickly coming to a close. We are down to the final week of the project now, with operations officially ending on July 15th. The following day I will be driving back to Illinois, picking up the keys to my apartment, meeting with my new boss, and then finally heading home.

Over the course of the project, I've taken a bunch of pictures and done a few time lapses. I will be making an effort to get everything posted soon. In the mean time, here's a couple of time lapses I did.
Professional Meteorologist
Posted: Friday, August 28, 2015 2:15 PM
Sorry for the lack of updates. I've been busy busy over the past month and a half. PECAN officially came to a close on July 15th. On my our last mission, we were treated to a little bit of thunder and lightning; however I didn't do any time lapses. I was sad to say goodbye to my team, and to the project as a whole. It was a very fun and interesting chapter in my life.
I drove back to Illinois the following day. I stopped in Peoria to pick up the keys to my new apartment, and stopped by my new job to meet with my boss. Then, I hit the road for Elgin. Over the next few days I packed up most of my stuff, and moved down to Peoria. And then I started my new career on that Monday.
So, now I am a professional meteorologist. I work for a company called The Mobile Weather Team, Inc. Monday through Friday I do agriculture weather forecasts. I also forecast weather for golf events around the world. In addition to weather forecasting, I do a lot of web design as well.
When I started this website five years ago, it was so I combine two of my passions; weather forecasting and graphic design. And now I do that for a living, and I think this website played a big part in making that happen.
Anyway, I will trying to add some more things to this website as time goes on. So check back from time to time.
Fifth Anniversary, and a Storm Chase Possible Wednesday.
Posted: Monday, November 9, 2015 11:40 AM
Five years ago this month, I was a meteorology major at the University of Oklahoma. I wanted to combine my weather forecasting with my graphic design skills I learned in the Army. The result was this website. Since then, this website has evolved, just as I have, and chance quite a bit. I may have a screen capture of this website in it's original state back in 2010 on one of my older laptops. I'll take a look.

Also, it's looking like there may be a severe weather outbreak on Wednesday. I am considering storm chasing, assuming it continues to look good. Right now I am thinking either south-central Iowa or north-central Missouri.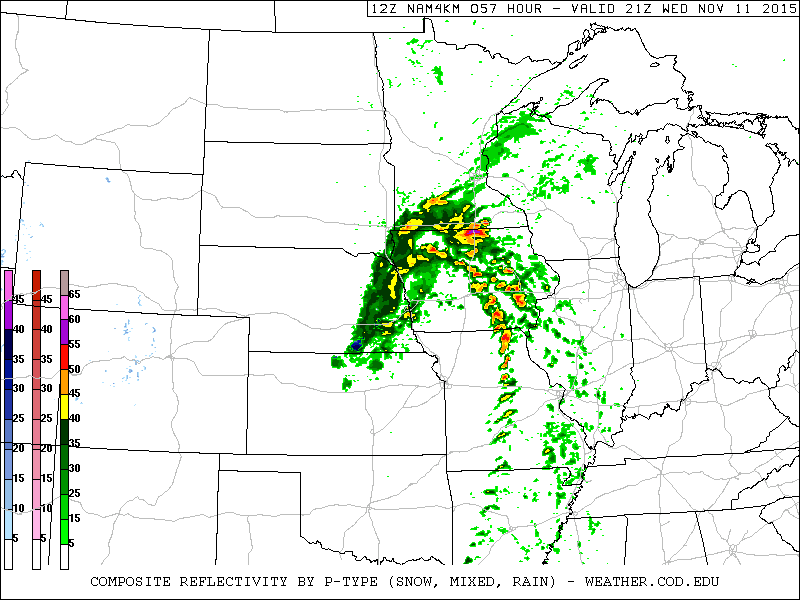 Finally, I at long last posted my final PECAN blog. You view it by clicking here, or by going to the Storm Chasing section of this website, and clicking the PECAN link. At some point I may post some more of my pictures on that page. But other than that, I probably won't be updating it anymore.
2015 in Review
Posted: Thursday, December 17, 2015 11:19 AM
The 2015 had a lot of ups and downs for me. But I think the positives of this year definitely outweigh the negatives. I started this year off as a senior meteorology major at Northern Illinois University. I was also the President of NIU's chapter of the American Meteorological Society.

I went on my first storm chase of the year in April, and what a storm chase it was. I witnessed the formation and strengthening of what became known as the Rochelle tornado, a strong EF-4. This was the first tornado that I had seen in my home state of Illinois, and was also the first tornado I've seen that's killed someone, unfortunately.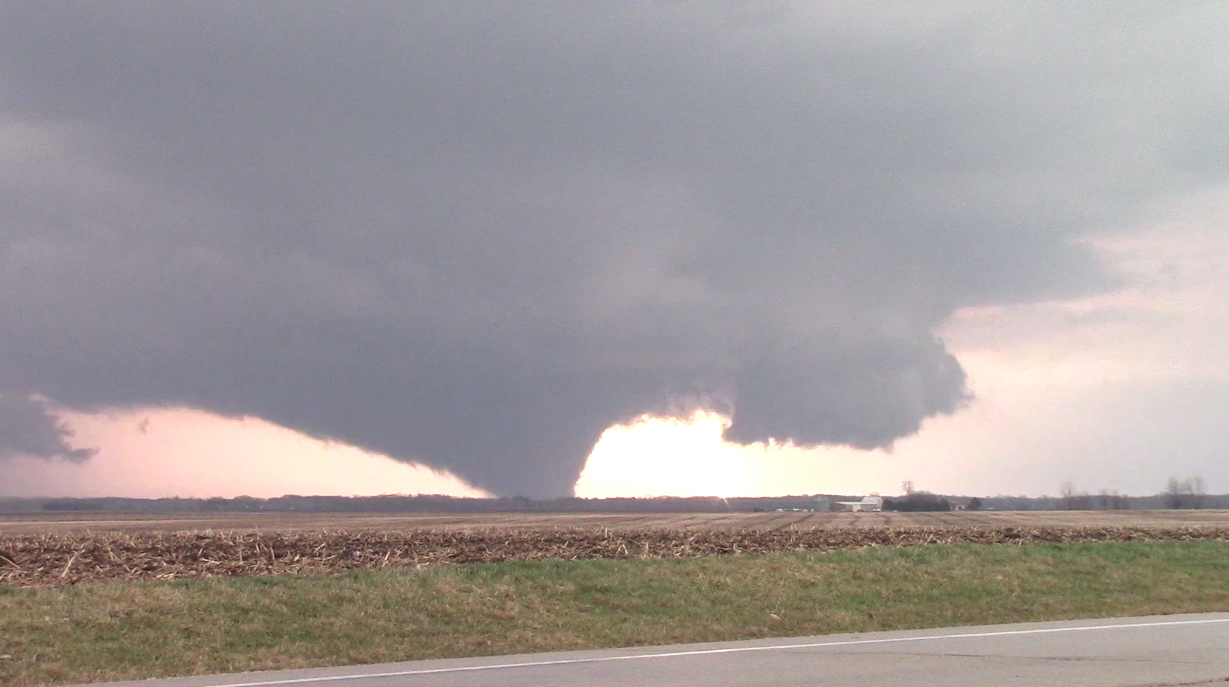 In May, I accomplished two dreams of mine. First, I finally graduated from college and officially became a meteorologist.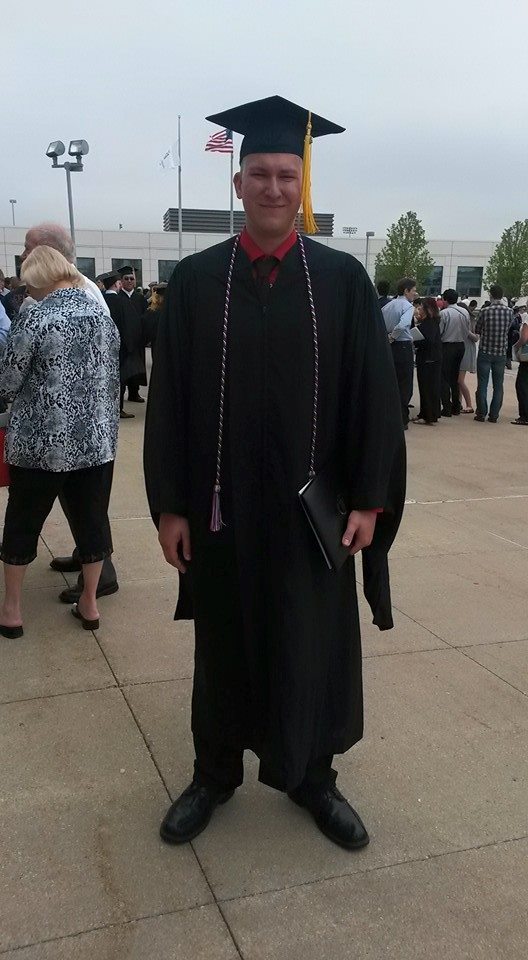 After that, I participated in a field research campaign, Plains Elevated Convection At Night, or PECAN. For a month and a half I worked as a team leader of one of NCAR's sounding teams. It was great getting to professionally storm chase, and I loved worked on PECAN.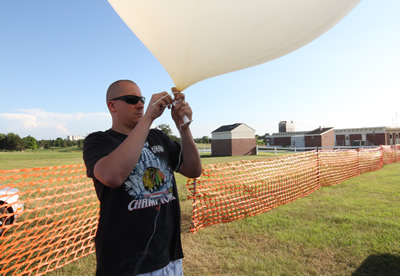 Once PECAN came to an end in July, I returned home to Illinois. I made the move down to Peoria, and started my new job as a professional meteorologist.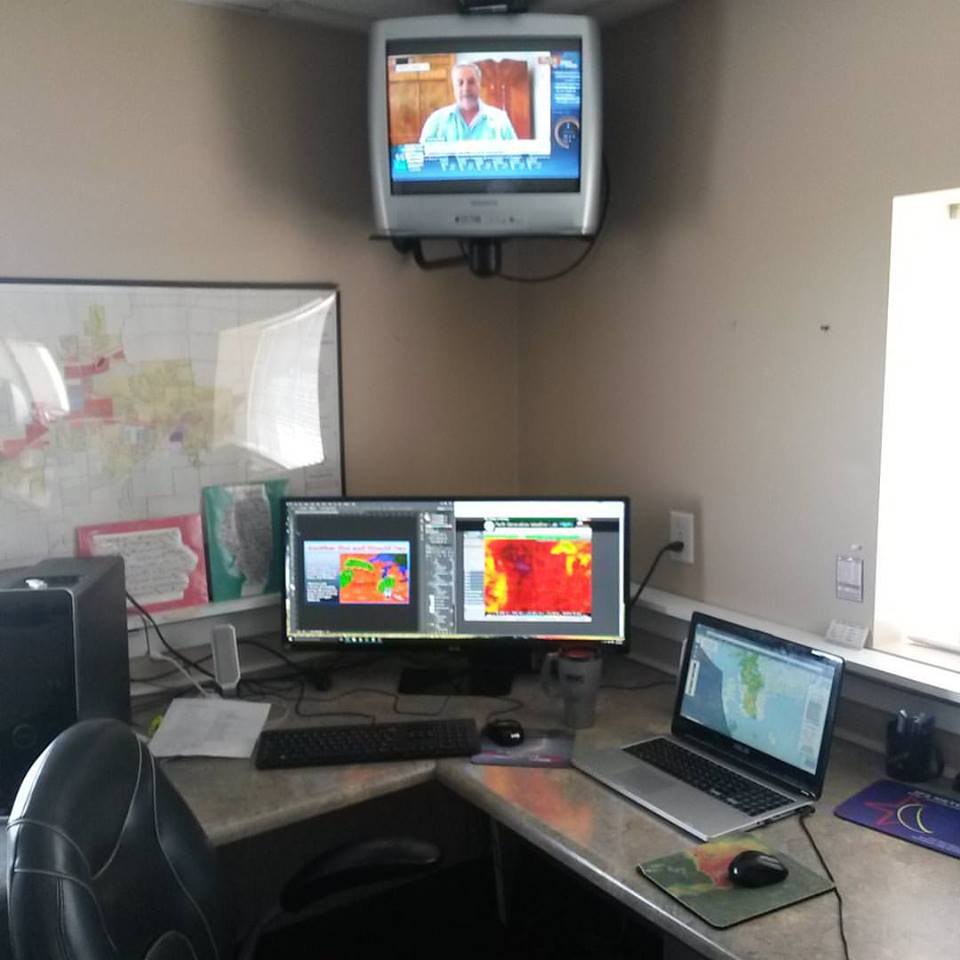 I'm looking forward to 2016, and I hope that I'll get to do a lot of storm chasing. I've seen tornadoes for the past three years in a row, I hope to keep that trend going!
2014
Dec
Nov
Oct
July
June
May
April
March
Feb
The End of 2014
Posted: Wednesday, December 31, 2014 2:04 PM
2014 is coming to a close. On one hand, I'm glad the year over because it means I'm that much closer to graduating and that much closer to next year's storm chasing season. But on the other hand, I can't believe how quickly this year (this fall especially,) went by.

In review, 2014 wasn't too bad of a year for me. I was elected President of NIU's chapter of AMS, I attended the Severe Local Storms Conference, I finally finished all the calculus classes I need for my degree. I think the lowest point of the year was seeing only one tornado this year; and the one I did see was small, brief, far away, and rainwrapped. Anyway, I am looking forward to 2015 and the challenges it brings with it!

In other news, there is a chance that the Chicago area could see some snow on Saturday. However, it is certainly not for sure and definitely could change.
Washington, IL Tornado One Year Anniversary
Posted: Monday, November 17, 2014 4:44 PM
One year ago today a high end EF-4 tornado ripped through Washington, IL killing three people. I missed the tornado itself, but drove through Washington an hour or two after the tornado had passed. The destruction I saw there was about as bad as what I had seen in Joplin or Moore.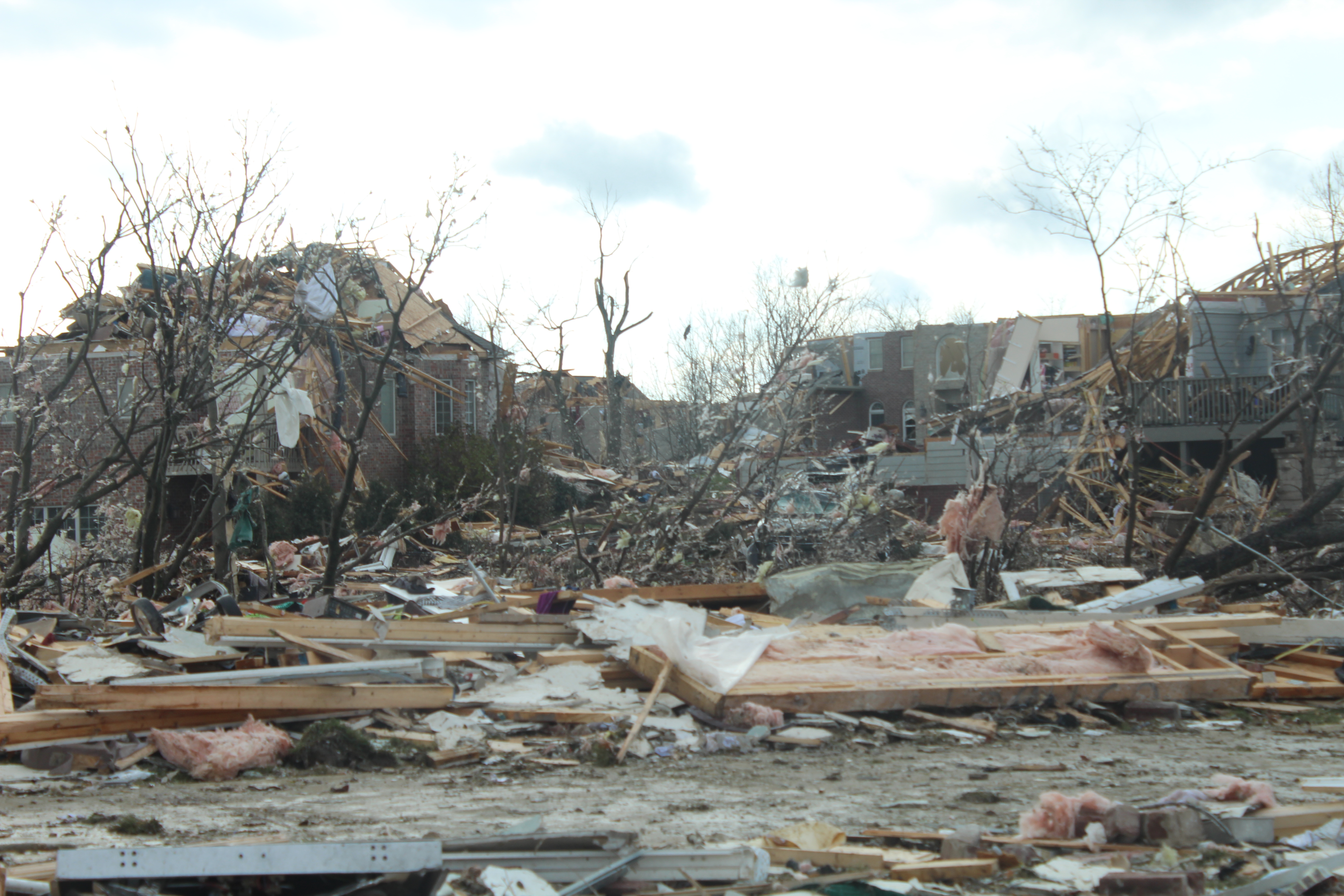 The other big news story today is that it's really freaking old out. As someone mentioned in my Synoptic Meteorology class today, what a difference a year makes. The morning of November 17th of last year, temperatures started out in the 70s across the area. As I write this, it is currently 12 degrees in Dekalb, and very windy.
SLS, and Nuri
Posted: Thursday, November 6, 2014 10:33 PM
The Severe Local Storms conference in Madison, WI is wrapping up, and I feel like I've learned quite a bit. There is a lot of really neat research out there, and it was cool seeing some really big names in meteorology giving talks.

In other news, a new record might be set tomorrow. What used to be Super Typhoon Nuri (equivalent to a category 5 hurricane and one point,) will lose its tropical characteristics and undergo a significant drop in pressure. Currently, the low is expected to become the lowest pressure ever recorded in Alaska. It could still potentially be the lowest pressure ever recorded in an extra tropical cyclone (the current record is 913 mb.)

The Capital Weather Gang have a couple of good articles on Nuri. (1)(2).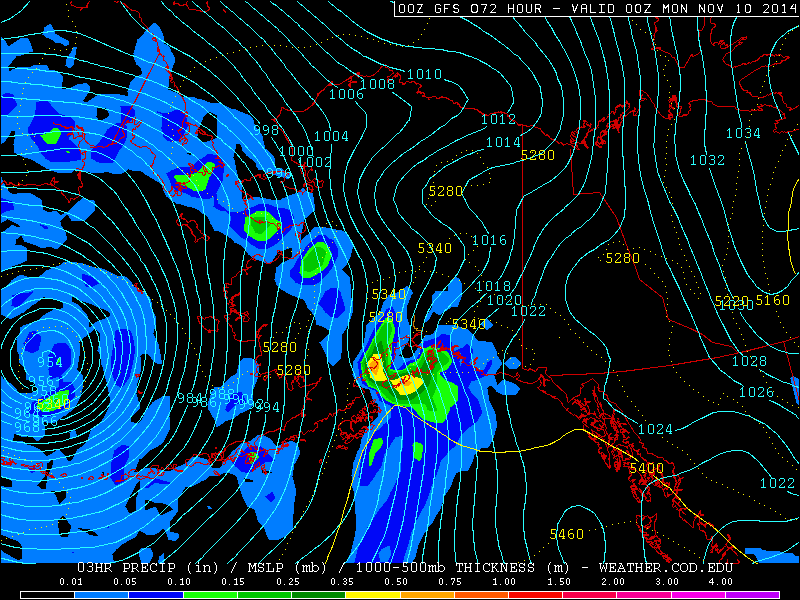 Super Typhoon Vongfong
Posted: Wednesday, October 8, 2014 4:51 PM
Here's the most recent IR satellite loop of Super Typhoon Vongfong. It (as of 6 hours ago, anyway,) has maximum sustained winds of 170 MPH, making it equivalent to a category 5 hurricane. Its winds are actually done a bit from yesterday, where they peaked at 190 MPH.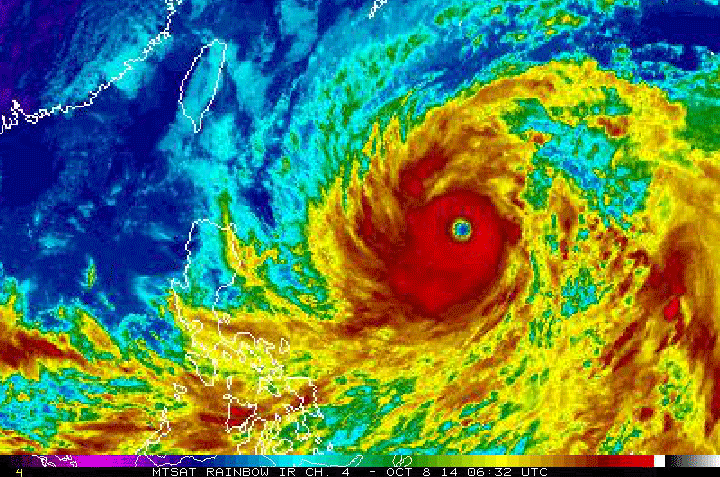 Yes, I'm still alive.
Posted: October 7, 2014 11:42 AM
Sorry for the lack of updates in the past few months. School, work, and AMS have been taking up just about all of my time. Sometimes I even get to sleep!

Anyway, the biggest weather story at the moment is Super Typhoon Vongfong in the western Pacific. Currently equivalent to a category 4 hurricane, this monster has winds gusting up to 190 MPH!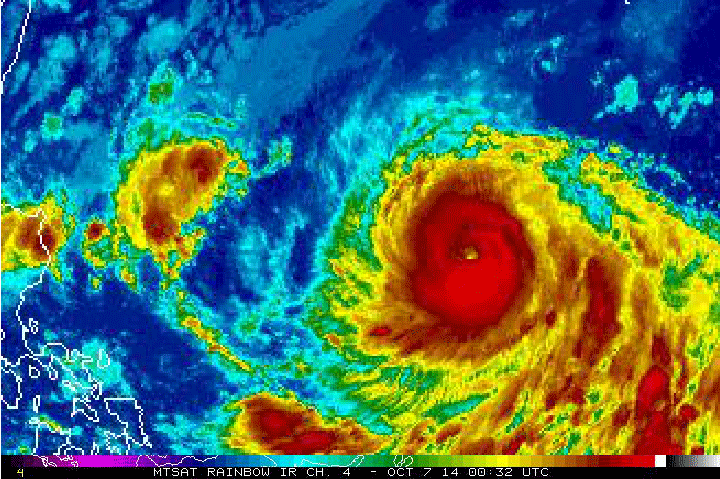 Infrared satellite loop of Super Typhoon Vongfong.
A Chilly End to July
Posted: Tuesday, July 29, 2014 9:48 PM
Below average temperatures are expected to continue for the last couple days of July, as well as the first week of August.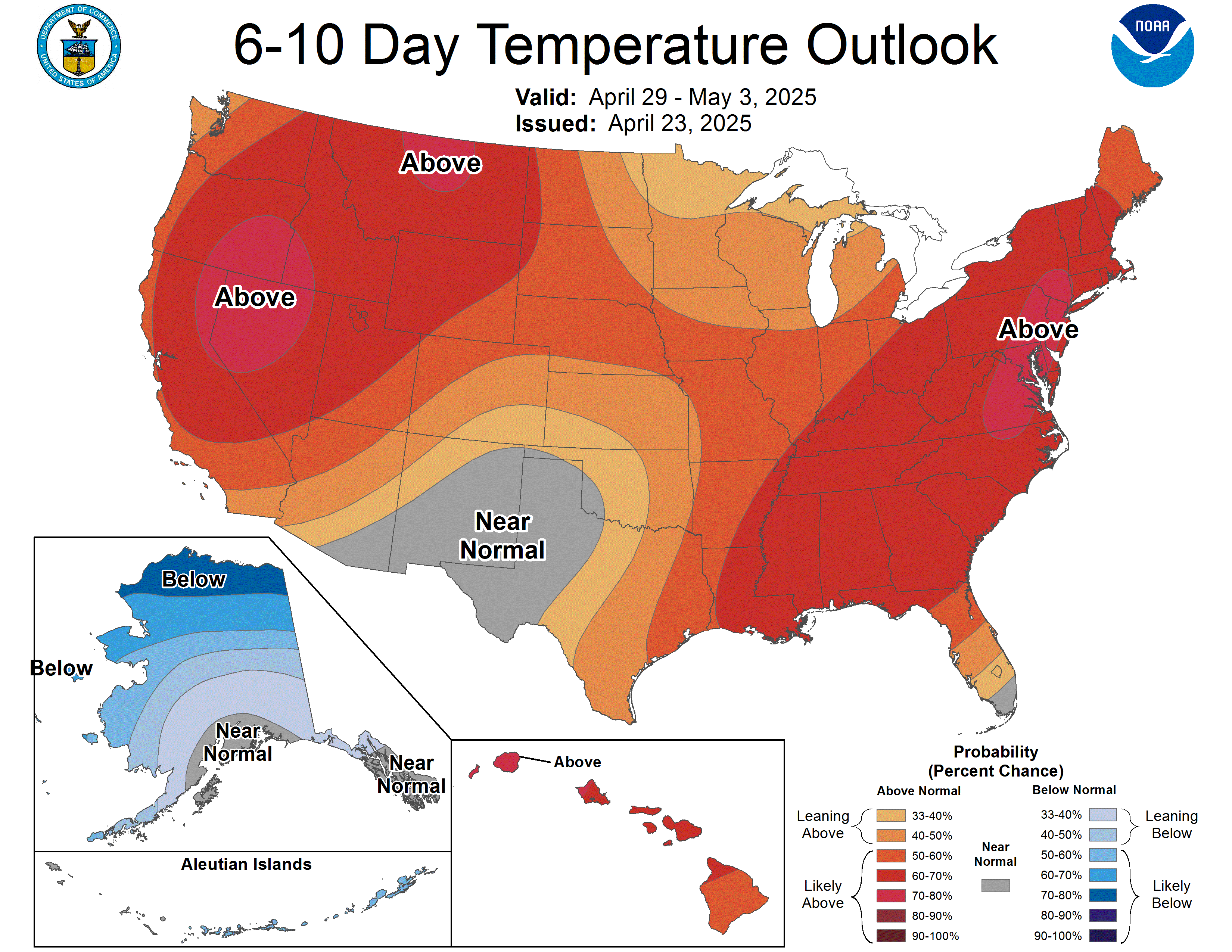 This will conclude a month of below average temperatures. Only five days of this month have been at or above average temperatures. With the next two days only making it up to the upper 70s or low 80s, it does not look like that number is going to change.

Ridging over the western half of the United States is largely responsible for this. With the leading edge of the ridge flowing over the Great Lakes region, a continental polar air mass will continue to pool over our area. Long range forecast model ensembles show the ridge remaining in place for at least the first week of August.
Slight Risk of Severe Weather Today
Posted: Saturday, June 21, 2014 3:30 PM
The Storm Prediction Center has given a good chunk of Illinois a Slight Risk for severe weather today; with damaging wind, and large hail being the primary concerns. A Severe Thunderstorm Watch has already been issued, in effect until 9 PM tonight.
Nebraska Hit Hard by Tornadoes
Posted: Tuesday, June 17, 2014 10:51 PM
It's been a rough couple of days for northeastern Nebraska. Yesterday, multiple wedge tornadoes touched down, including two at the same time. Pilger, Nebraska took a direct hit from a large tornado, damaging 75% of the town. Two fatallities were reported.

Photo from Nebraska Emergency Management Agency

Today, a large wedge tornado slowly drifted southeast over the course of a couple hours between the towns of Coleridge and Laurel, Nebraska. Damage has been reported, but it seems like the tornado largely missed the two towns.
Hitting The Road Tomorrow (Monday)!
Posted: Monday June 2, 2014 1:18 AM
I have decided that I am hitting the road for Nebraska tomorrow, leaving at noon at the latest. To confirm I made a good choice, the Storm Prediction Center has upgraded Tuesday to a Moderate Risk. Wish me luck!
Update on Tueday
Posted: Sunday, June 1, 2014 12:19 PM
Thermodynamically, Tuesday still looks very good. What is giving me pause about Tuesday is storm mode. The GFS and NAM are in agreement about a more derecho-like event taking place. The question is will there be any supercells before that takes place. The GFS says yes, the NAM says no. I'd really hate to drive all the way to Nebraska, spend all that money on gas and at least one hotel, just for a squall line to blow past me real quick.

So right now, I'm giving Tuesday a "Maybe."
More Fun With Time Lapse
Posted: Sunday, June 1, 2014 12:19 PM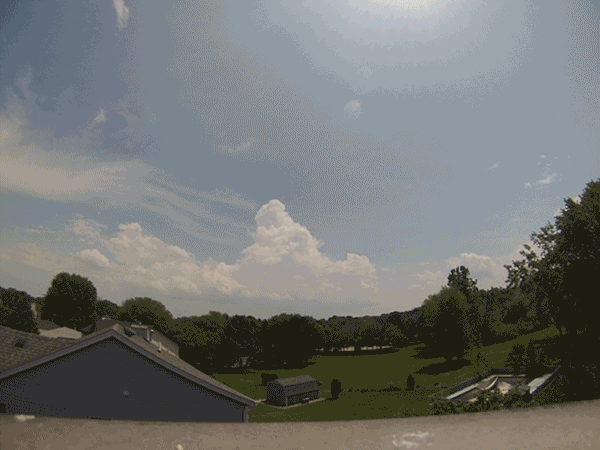 May take a few minutes to load.
Storm Chase on Tuesday
Posted: Sunday, June 1, 2014 0:46 AM
Tuesday is looking like possibly the best storm chase day of the year, based on terrain and atmospheric conditions. As such, I will be in the field chasing. At the moment, I'm setting my initial target area as Kearney, Nebraska. Of course, that may change in the coming days as the forecast models get a better idea of the placement of the warm front on Tuesday.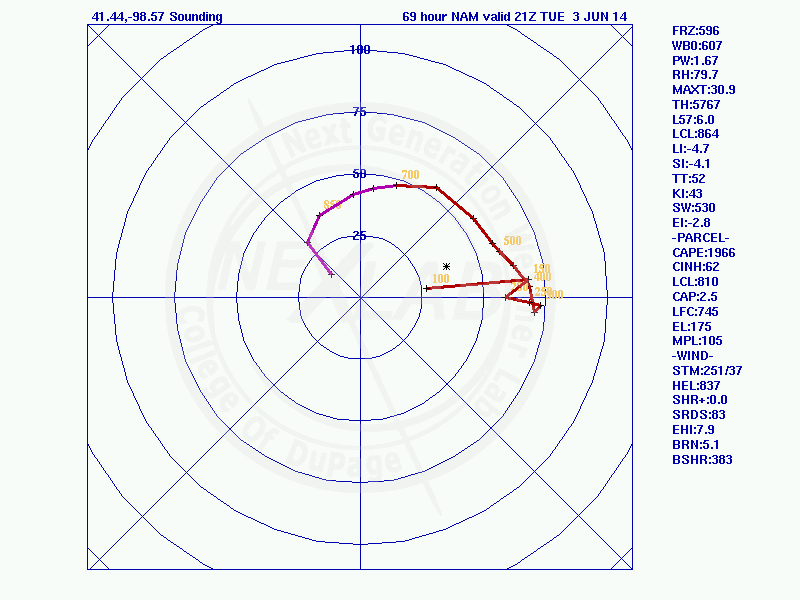 Forecast sounding from north of Kearney, Nebraska at 7 PM on Tuesday (from the 00z run of the NAM.) Note the huge amount of helicity.
Fun With Time Lapse
Posted: Tuesday, May 13, 2014 0:10 AM
Had several rounds of thunderstorms pass through today. Here's some time lapses I made. This was my first time doing a time lapse, so I'm still figuring out the best time interval.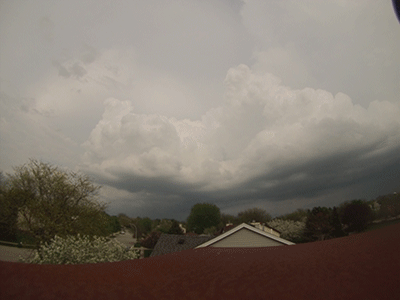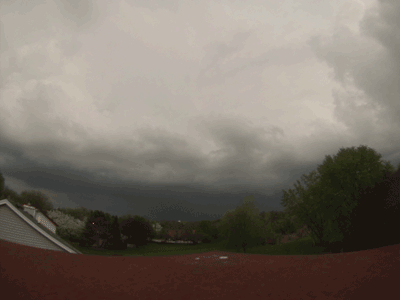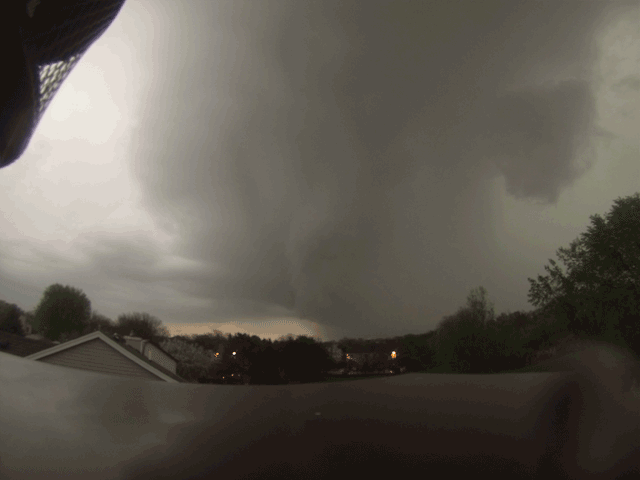 Tornado Outbreak on Mother's Day
Saturday, May 10, 2014 6:48 PM
The Storm Prediction Center has already given tomorrow a Moderate Risk, I wouldn't be surprised at an upgrade to High Risk later tonight. Eastern Nebraska, western Iowa, northwestern Missouri, and Kansas are all under the gun. With CAPE values nearing and possibly exceeding 4,000 j/kg, and pretty extreme helicity values near the warm front, multiple large, long tracked tornadoes are possible.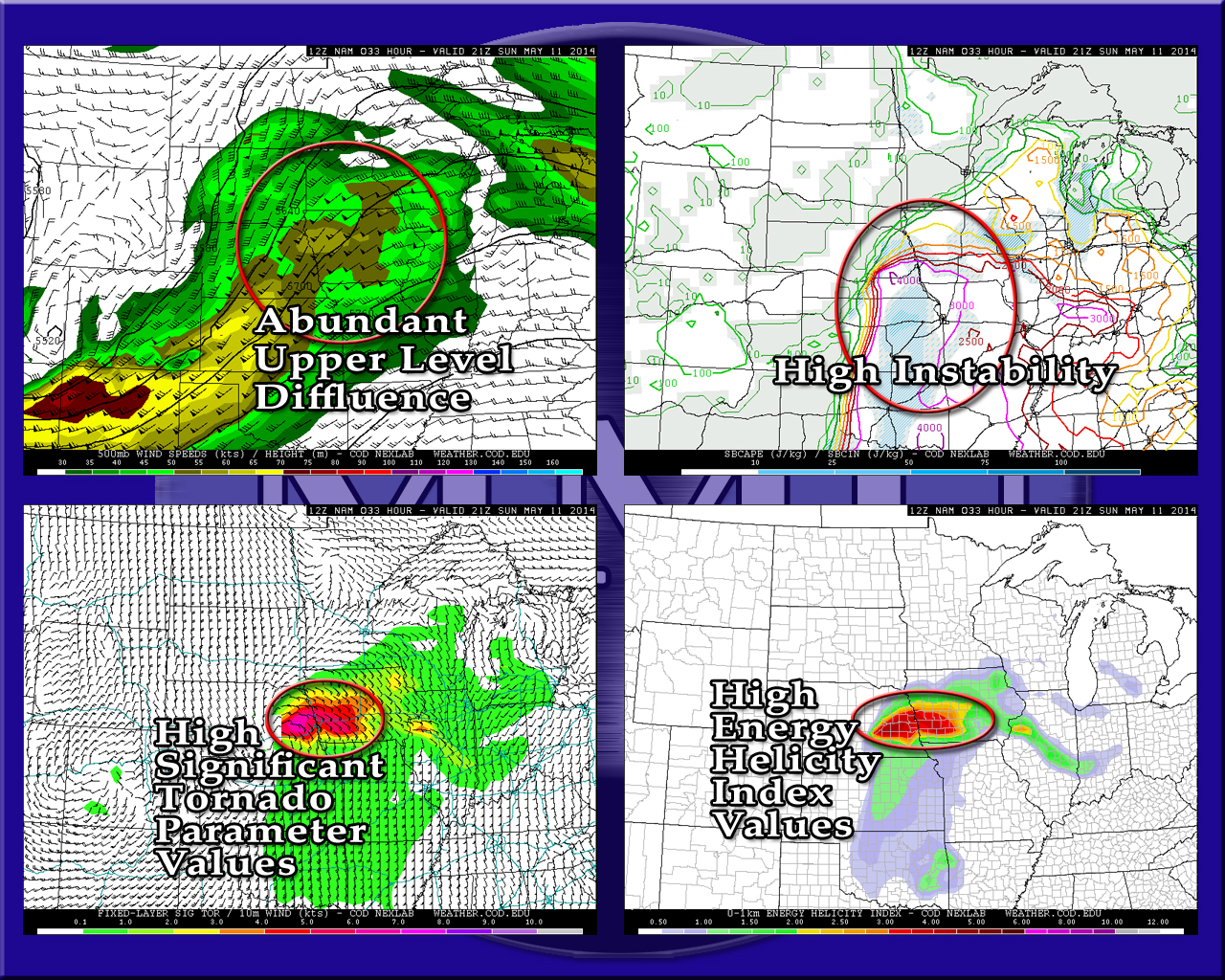 NAM forecast soundings from eastern Nebraska show what we call "loaded-gun soundings." Basically, there is very strong instability with a little bit of a cap that will hold off storm initiation until the afternoon, when diurnal heating increases instability. Once the cap is broken, the storms fire off like a gun, usually resulting is very strong supercells, and potentially strong tornadoes.

Forecast sounding for near Columbus, NE at 4 PM tomorrow.


Forecast hodograph for near Columbus, NE at 4 PM tomorrow. Not the extreme helicity.
First High Risk Days/Multi-day Outbreak of 2014
Posted: Wednesday, April 30, 2014 2:45 PM
We just had out first multi-day tornado outbreak of the year.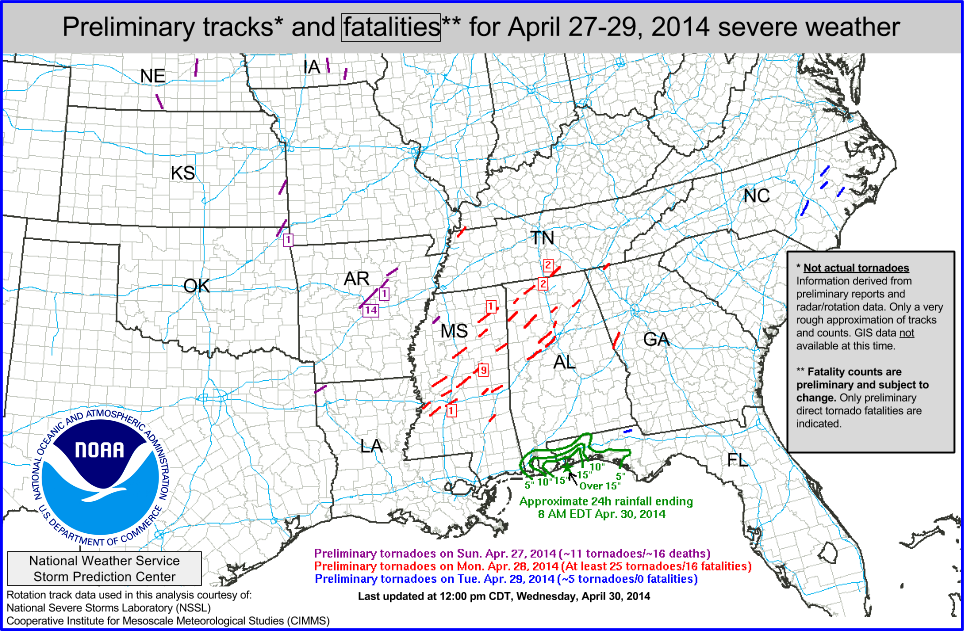 32 people were killed during the three-day severe weather event. Tornadoes of note include the Mayflower-Vilonia, Arkansas tornado on Sunday evening, which has the preliminary rating of EF-3 and it killed 14 people, and the Louisville, Mississippi EF-4, which killed 9 people.
As for myself, I went storm chasing in Nebraska on Saturday and Sunday. I even caught my first tornado of the year on Sunday. Write ups of my trip this past weekend can be found in the Storm Chasing section of this website.
Possible Storm Chase on Saturday
Posted: Monday, April 21, 2014 2:14 PM
Saturday is great for some severe weather in southern Kansas and Oklahoma. If it keeps looking like it looks right now, I'm going to do my best to go storm chasing. It'll kind of depend on whether or not I can get off of work on Friday. Otherwise, I may have to pull an all night drive there. Anyways, here's a quick little graphic I threw together.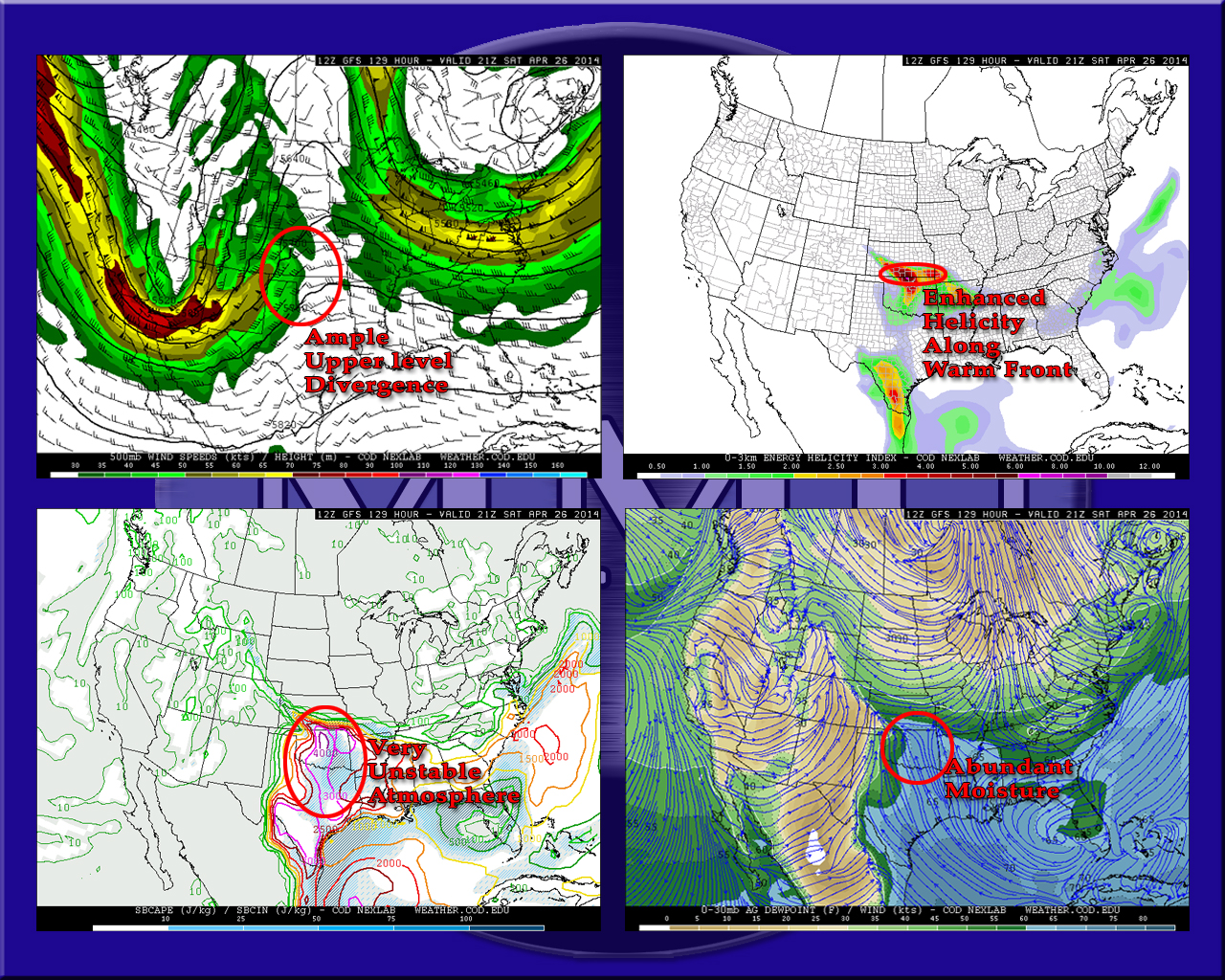 ...Annnnnd we're back to winter...
Posted: Monday, April 14, 2014 1:21 PM
After a weekend in the 70s, it is now in the upper 30s/low 40s and snowing. *Hopefully*, this will be our last snowfall until like November. The GFS does show us getting one more snow event, but it's at 300 hours out, so I'm not putting too much stock into that forecast.

For the rest of this week, we should see high temperatures in the 50s, excluding tomorrow which should stay in the 40s. The next real weather event will come Thursday night into Friday, as some rain moves through the area.

I ended up not going storm chasing on Saturday. Luckily, there were zero tornado reports, so it looks like I didn't miss much. Ironically, there was a tornado report on Sunday near the area I was in on Saturday.

Looking ahead for severe weather, it looks like the southeast/extreme southern Texas may get some this coming weekend. A short wave trough does approach our area on Wednesday, however neither the NAM nor the GFS show any storms firing up as a result of it. If we are lucky, we may get a few rumbles of thunder with the showers that move through Thursday night/Friday.
Possible Storm Chase on Saturday
Posted: Friday, April 11, 2014 1:29 PM
This one snuck up on me a little bit. But The Storm Prediction Center has given northern Illinois and parts of eastern and southern Iowa a Slight Risk for tomorrow.
I'm in the process of doing an analysis of the event. But one thing I can say right away is it will be an unusual storm chase. I actually have a wedding to go to tomorrow in Davenport, Iowa, which I believe starts at 4 PM. So if I do go storm chasing, I'll likely be in a suit. The good news though is I'll already be in a decent target area; although I may want to go a bit further west.
Anyway, stay tuned. I'll post more info when I can.
Oh. Also, last night I was elected to be the new President of NIU's chapter of the American Meteorological Society.
Slow Start to the Year
Tuesday April 8, 2014 9:06 AM
We are definitely off to a slow start this year, tornado-wise. The U.S. averages about 80 tornadoes in the month of March, with the March of 2014 only recording 25 tornadoes. In April, the U.S. averages around 155 tornadoes. So far this April, we've had 11 tornadoes. Granted, it's early yet; and one large outbreak could put us at or above average. However, the latest run of the GFS at the time of this post persists in showing relatively calm weather across the continental United States.
It is important to keep in mind, however, that just because we are having a slow tornado year does not make the tornadoes we do have any less dangerous. 2013 really proved this point very well. 2013 was a slow tornado year, with 908 tornadoes (the average yearly amount of tornadoes being 1253.) But some of the tornadoes we did have last year we very destructive (Moore, Shawnee, El Reno, Carney, etc.)
First Storm Chase of the Year
Posted: Thursday, April 3, 2014 11:42 PM
I went on my first storm chase of the year today. It wouldn't be accurate to describe the chase as "disappointing," as I had a very pessimistic outlook of seeing anything today. What's the saying, "keep your expectations low and you'll never be disappointed?"
Anyway, I saw nothing but rain today. To see a more detailed write up of my chase, please click here.
Unfortunately, the next storm chase may not be for a little while. The GFS is showing relatively calm conditions on tap, at least for Illinois.
Spring Is Finally Here
Posted Friday, March 7, 2014 4:02 PM
Temperatures across northern Illinois (as I write this,) are in the low to mid 40s. More importantly, it's looking like these temperatures are here to stay; for the most part. Tomorrow the temperatures will dip back down a bit, and Sunday morning could be in the single digits. But by Sunday afternoon, temperatures across the area should be back in the upper 30s, or possibly low 40s.
Next week, high temperatures, according to the GFS, are forecasted to stay between the mid 30s and mid 40s, with Friday possibly reaching 50. Low temperatures for next week should stay within the mid 20s.
Now with all this snow on the ground, it doesn't quite look like spring time yet. However, a week of above-freezing daytime temperatures should make a pretty decent dent in the snow pack; which will eventually allow for even warmer temperatures.
Do not make the mistake of thinking we are done with snow, however. At least a couple more small snowfalls should be expected; one possibly coming later tonight.
Glimmer of Hope, or Maybe Just a Mirage
Posted Monday, February 24, 2014 2:08 PM
Looking at the long range GFS (I know, I know,) there is something that caught my eye.
This is the surface temperatures, winds, and MSLP at 276 hours out. Yes, that is super ridicuosly far out. Yes, it'll most likely change. But with the lows prosition in northern Wisconsin, and northern Illinois sitting in the warm sector with temperatures in the 30s, this could potentially be a freezing rain event. Also, the GFS is some low amounts of instability, it's possible there could be a little bit of thunder and lightning; which is what really get me semi-excited.
Unfortunately, another low immediately follows this one, but on a more southerly route. So it's possible we'll be getting snow with this one.
Again, this is really, really, really, far out still. There's a pretty decent chance that this whole system will dissapear within the next couple models runs, just like the last one did. In any event, it looks like winter is here to stay for at least the next week or two.
Elgin 7 Day Forecast
Posted Sunday, February 23, 2014 12:23 PM
Re: Next Severe Weather Event
Posted Saturday, February 22, 2014 12:27 PM
Yeah, the latest runs of the GFS have already completely changed the previously described scenario. The low that was originally progged to move through the area on March 2 isn't even there any more. But that's what I get for being hopeful about forecast models at over 200 hours out. The GFS does show a different, intense low taking a more easterly track later on in the period, but I'm not holding my breath.
Next Severe Weather Event?
Posted: Friday, February 21, 2014 3:36 PM
With yesterday's severe weather event in the books, and northern Illinois slipping back into winter, I've been looking at the GFS; eagerly looking for the next event as well as some more spring like temperatures.
There is a possibility on March 2: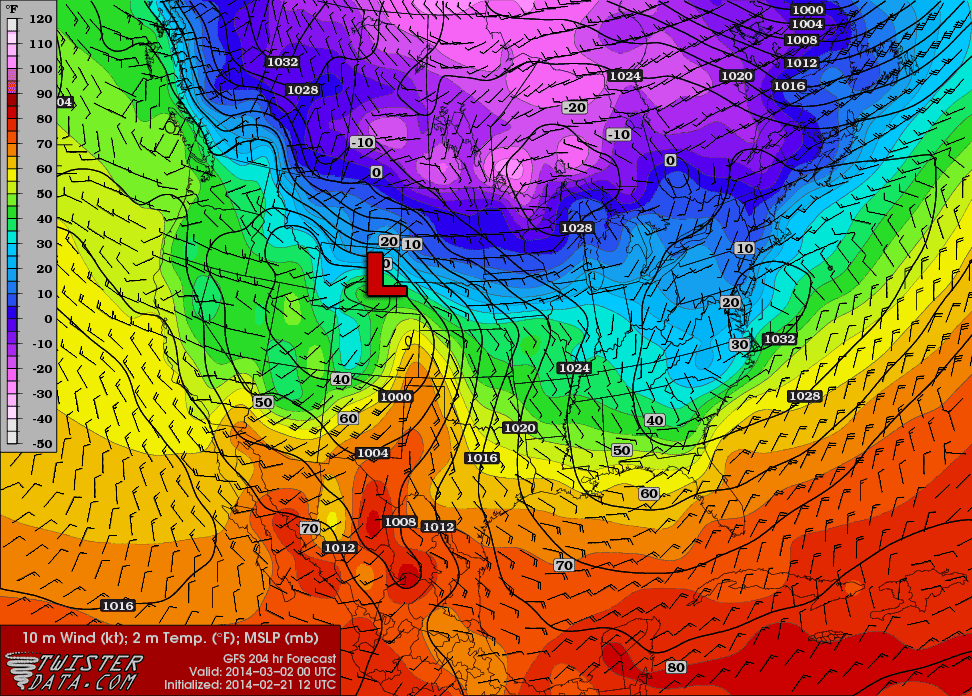 GFS Surface Temp, Wind, and MSLP, with low added on.

A surface low will move through the Central Plains into the Mississippi River valley/Great Lakes region on a very similar track to the one that caused the severe weather outbreak yesterday. A couple of key differences, however, are that the low is not experected to be nearly as intense as the last one, and that the timing of the event.

While the last low was passing through northeastern Wisconsin/Michigan by around 0z, the next low looks to only be in south-central Iowa/north-central Missouri, if the timing in the GFS remains consistent. As a result, the potential severe weather will be further southwest than yesterdays event. Missouri, Arkansas, eastern Oklahoma and eastern Texas would be areas potentially effected.

With the low not being nearly as potent as the last one, the potential for severe weather may be a little less. At the moment, the GFS does not really show a whole lot of instability. However, this forecast is for over 200 hours out at the moment, so nothing is definite or final at this point. It's mostly just something to watch for.